The Pink Beach Komodo Island Have You Must Visit At least Once in Your Lifetime.
In this article we will explore starting from Labuan bajo port to Komodo National Park, Pink Beach, Namo Beach, FAQ general questions and what things to do there also conclusion to get there.
Pink Beach Komodo Island
Hi dear reader let me show you the pink beach on the east part of the world, call it, The pink beach komodo. sure you've never heard of this beach!? yes, if am i right..
Komodo Island maybe is famous as the habitat of the largest reptile today, Komodo Dragon. People visit this beautiful island to see and capture this amazing animal in a photo.
Some of them found some thrill visiting and interacting with this lizard. After that, they just return and satisfied with their visit. The truth is they are missing one beautiful place on this island. It's called Pink beach komodo.
The Beautiful Pink
Situated in the East part of Komodo Island, only a few people know about this beautiful beach. Thus, people also call it a hidden paradise.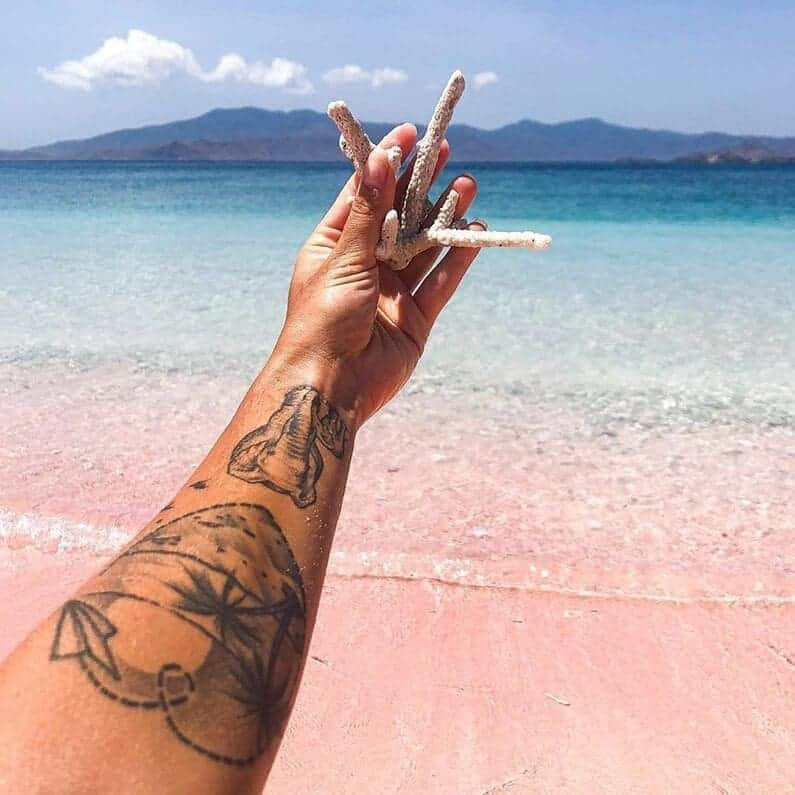 You may have a problem to find a tour agent or rental ship service that provides a tour to this beach. However, it doesn't mean that this beach is not beautiful.
In fact, as one of the seven beaches with pink/red sand, you find one of the magnificent sceneries here.
When you visit Pink beach komodo, you can see that the sand is real pink sand. It is caused by the Foraminifera, a microorganism that produces the pink/red color pigment on the coral reef.
The broken coral reef pieces then washed to this beach and affect the sand color. And it turns into pink color, which this beach's name originally comes from.
The Namo Beach
The Pink beach komodo is very popular. Most people visit this beach when they want to see a beach with pink color on Komodo Island.
However, there is another beach with similar sand color on this island. Locals even don't know that much about this beach. Therefore, it is less crowded than Pink Beach. Its name is Namo Beach.
As it is not visited by many people, the atmosphere here is very peaceful. It feels like a private beach. You can play as much as you want here. The difference is not only the atmosphere. The sand in Namo Beach is much redder than that famous Pink Beach's.
Some people even call this beach Red Beach. This bold difference gives it different scenery as well. The pink sand is caused by a similar factor as Pink beach komodo. The sand is mixed with the pieces of pink microorganism body. It then turns into the unique color you can see today.
Even though people rarely visit Namo Beach, you can easily see a lot of trash and garbage here. People don't throw it here. Mostly, this garbage came from the sea. People throw it in the sea and the wave brings it here.
FAQ about Pink Beaches in Indonesia
Pink beaches in Indonesia are getting more and more popular in the world. Here are some most frequently asked questions by tourists and common people who are interested to visit them.
Where is the beach pink in Indonesia?
Pink beaches are located in some areas in Nusa Tenggara, Indonesia. The most popular one is the pink beach of Komodo Island in East Nusa Tenggara.

Besides, there are also other pink beaches; they are Tangsi Beach in Lombok Island, Lambu Beach in Bima Island, and Namong Beach that is still a part of Komodo National Park.
Why is Pink Komodo Beach Pink?
The pink color of pink beaches is from microscopic animals namely Phoraminiphera that gives red or pink pigmentation to corals. Those corals are sent by the wave to the coasts and then they are destroyed into flakes. Those flakes are combined with sand and they cause the pink color on the beach.
How do I get to Komodo Beach Pink?
You must get to Labuan Bajo first whether by boat or plane. From Labuan Bajo, you can directly go to the Pink Beach of Komodo Island by boat charter with Go travela.



Charter for Phinisi and Luxury Yacht
How many pink sand beaches in Labuan Bajo?
There are at least 5 pink beaches in the area of Labuan Bajo. They are connected to each other so that it looks like only one or two pink beaches in the area. Those areas are Pink Beach Komodo, Pink Beach Padar, Short and Long Beach, Serai Beach, and Namong Beach.
How much to rent a boat to Pink Beach from Bajo?
There are two options of the boat to Pink Beach; private and public boats from Labuan Bajo to Pink Beach of Komodo Island.

For Private boats, the cost is from US$. 450
Things You Can Do
Namo Beach and Pink beach komodo have beautiful scenery. So, this is the first thing you can enjoy here. Moreover, the sea surrounding this beach also holds beautiful underwater scenery.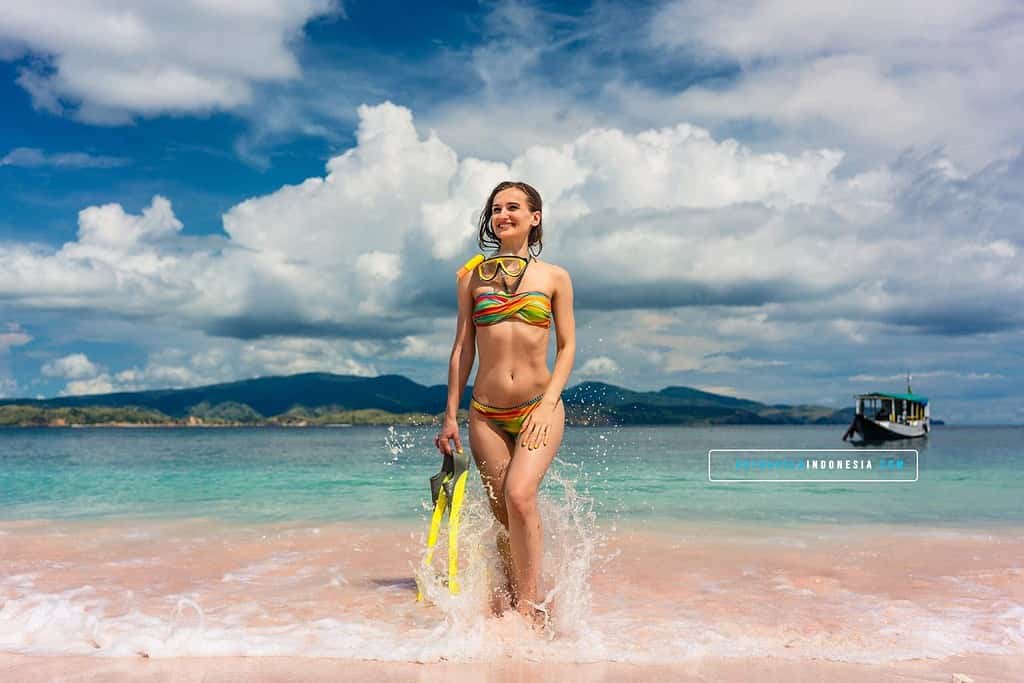 You can try snorkeling or diving to enjoy this beauty. See the beautiful formation of the coral reef. The various fishes and sea animal species that live there also add more amazing things you can find during your underwater adventure.
Once you spend your day enjoying the beautiful scenery and snorkeling, you can relax on those beaches.
Wait for the sunset and find out one of the most beautiful sunset sceneries you won't find elsewhere. Visit this with your loved one, and you get a romantic moment you and your couple can enjoy.
When you visit Namo Beach, ensure that there is no Komodo Dragon around. This beach is also a place where Sea Turtle lay eggs. And, those lizards come here to hunt the egg.
Therefore, it is important to use a local guide when you visit Pink beach komodo or Namo Beach. They can help you to choose the right time and moment to visit them for the best experience.
Conclusion
Komodo Island is a true natural wonder of the world. Here, you won't only find the amazing Komodo Dragon. But, you also can visit two pink beaches located here. It is maybe difficult to find it yourself. With a local guide and travel agency, you can find these two beaches easily.
So, when you decide to visit Indonesia, do not forget to visit Namo Beach and Pink beach komodo. Guaranteed, you won't regret your decision. You will get the best adventure and vacation experience in your life.
You can read also :
If you liked this article, then please subscribe our YouTube Channel for support us in presenting tourist video forward. You can also find us on Instagram or direct to Whats-app me for consult your travel plans.
The Pink Beach Komodo Island Have You Must Visit
Keep reading: What is meaning of Sri bintan pura seaport? »