Bali Scooter Hire
Bali Scooter Hire or in Indonesia bahasa language is "Sewa motor bali" has now become one of the main needs of alternative transportation during a vacation on the island of bali. At Gotravelaindonesia.com with mainstay product Car Rental and Tourism Indonesia Bali Scooter Hire offers alternative holidays to you travelling on Indonesia and we do everything to make renting a motorbike or scooter on Bali convenient and easy for you!
Welcome To Bali with Bali Scooter Rental
Sewa Motor Bali for Kuta, Seminyak, Airport Canggu
Bali Island – The true Paradise
Introduce; Bali Island is a small beautiful island and a part of Indonesia archipelago. It own the panorama and unique culture that make this island is exclusively than others. Furthermore, It's location is in the tropical situation as Dream Island for a vacation.
Bali Island has many places of interest such as rice paddies, beautiful panorama, volcanoes, tourism activities as well as attractions. In addition, it also has beautiful jungle, long sandy beaches, warm blue water, crashing surf and friendly people. Moreover, the local people presents daily community ritual and a lot of things make your holiday unforgettable. In Bali, the spirits is coming out to play in the moonlight.
Bali Island offers world-class surfing and diving sites, a great number of cultural historical and archaeological attractions and an enormous range of hotels, villas and resorts, it is not without reason that Bali is one of the most popular island destinations for tourists from all over the world. That's also the reason why Bali consistently wins travel awards from various magazines and organizations.
Balinese people have been well known as the agrarian and friendly people. Meanwhile, they are holding the strong social life that existing up to now and become the fortress from unfavorable external influence pressure. In addition, they are very charm, warm and helpful.
Transportation on Bali
Getting around Bali 'free-and-easy' using alternative transportation methods is generally speaking not that easy. There are loads of taxis and "bemo" (chartered vehicles with drivers) available on Bali, that's not the problem.
You should take into consideration that there is almost always the Day-tour to the commission paying Souvenir Shop and the same counts for the Restaurant referrals you get from your (taxi) driver which are commission-able to him as well most of the time.
If you dare you can try to go by public transport / buses or minibuses, but the latter are usually crowded and you will have to stick to a 'schedule' which isn't reliable nor convenient and can even ruin collecting beautiful impressions and sceneries from your vacation time.
The best choice for seeing the true spirit of Bali is actually by a Motorbike rental or Hiring Bali Scooter. It is the fastest and the most comfortable way of seeing around. You can drive your motorbike at almost any place, park, beach or attraction conveniently and really see a lot of Bali in just a few days.
To really make the most out of your precious holiday time on Bali hiring a motorbike or a Bali scooter hire gives you the freedom to enjoy your time on Bali to the max.
Motorbike Rental Prices :
Jenis Motor
Harga Sewa
Mio/Vega (2004)

Day: $. 3,00
Week: $. 07
Month: $ 53
Vega/Jupiter (2008)

Day: $. 3,00
Week: $. 15
Month: $. 45
Honda Vario CW


Day: $. 4,00
Week: $. 22
Month: $. 57
Honda Spacy

Day: $. 4,00
Week: $. 22
Month: $. 57
Yamaha Mio J

Day: $. 4,00
Week: $. 22
Month: $. 57
Yamaha Soul GT

Day: $. 4,00
Week: $. 22
Month: $. 57
Honda Beat FI

Day: $. 4,50
Week: $. 25
Month: $. -
Yamaha X-Ride

Day: $. 4,50
Week: $. 25
Month: $. 64
Yamaha Xeon GT 125 FI

Day: $. 4,50
Week: $. 25
Month: $. 64
Honda Vario 125

Day: $. 5,00
Week: $. 32
Month: $. -
Honda Scoopy FI

Day: $. 4,64
Week: $. 29
Month: $. -
Yamaha N-Max

Day: $. 9,28
Week: $. 68
Month: $. -
HONDA PCX

Day: $. 10,71
Week: $. 71
Month: $. -
YAMAHA LEXI


Day: $. 7,14
Week: $. 40
Month: $. -
Yamaha X-max 250

Day: $. 28,57
Week: $. -
Month: $. -
Ninja 250 FI

Day: $. 25,00
Week: $. -
Month: $. -
Term & Condition
1. Prices above based on US Dollar & 24-hour daily motorcycle rental method.
2. Motorbike Good Condition and Latest Output.
3. The Rental Price includes 2 International Standard Helmet, Raincoat, petrol.
4. Cancellation on the day of use and already at the location subject to full rates.
5. Delivery & pickup is arranged from the airport or at the hotel where you stay.
6. A copy of your passport & international licence as a security guarantee.
7. The motorbike can be used around the island of Bali only.

We are No.1 Motorbike Rental In Bali!
We provide you with the tools to conveniently hire your motorbike or Bali Scooter Hire online
You just tell us where and when to deliver your motorbike choose and you will find it ready upon your arrival
At the-end of your holiday leave your rented scooter or motorbike at any Hotel or Resort on Bali and we will pick it up
You enjoy a 24/7 hot line for road side assistance where our staff speaks English fluently
A variety of handy accessories ensure that you will make the most out of your ride around Bali
We truly care. That's why your experience of renting a motorbike in Bali will be wonderful with us
Term & Condition Bali Scooter Hire :
Minimal Hiring or Bali Scooter Hire is (2 days).
Method Motorbike Rental Bali is 24 hours daily.
Delivery and pick up can be arranged free from the international airport ngurah rai or at your hotel only in the region: West Denpasar, Kuta, Seminyak, Legian, Tuban Kerobokan. if it is outside the coverage area will be additional costs for shipping outside the area above.
Rental Motorbike in Bali can only be used on the island of Bali alone (No for out-Island such as Lombok or Java).
Entrust one of the identity/Passport yourself as a security guarantee.
Other terms and conditions contained in the Agreement Form Motorcycle Rental in Bali.
If the data you provide us consider less detail, or less assured, we reserve the right to refuse a request Rental Motor In Bali you.
All data/query can be book to WhatsApp: +62853333 99175 or mail us at gotravela.id@gmail.com
Book by Whatsapp click bottom below
Book by WhatsApp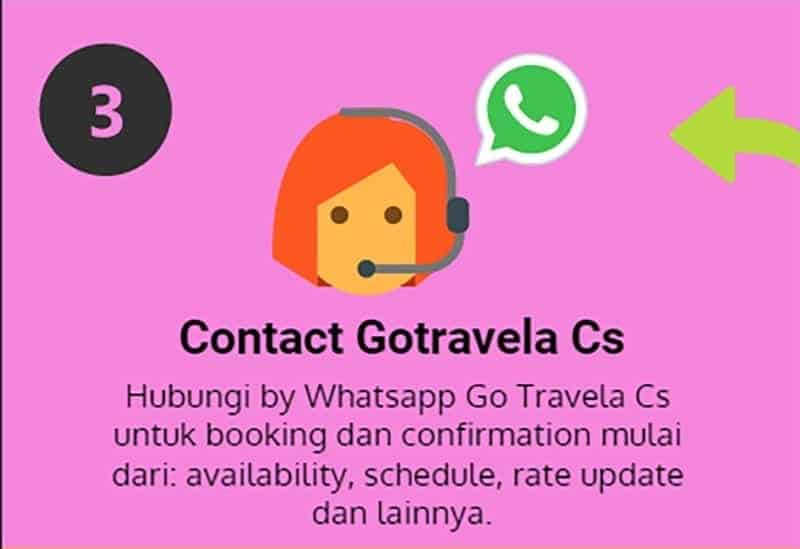 Scooter Hire On Nusa Penida
You can watch below or link to Nusa Penida Scooter Hire Only USD. 04,00 per 24 Hours
Source Bali Scooter Hire : scooter rental in Bali 2019, Sewa motor di bali murah, scooter rental bali price, bali bike rental seminyak, bali bike rental nusa dua, bali motorbike rental, big motorbike rental, Hiring Bali Scooter at Airport Bali, rent motorbike in bali nusa penida, is it safe to rent a motorbike in bali, how much does it cost to rent a motorbike in bali.
Bali Scooter Hire | Rental Motorbike in Bali Seminyak & Kuta.
Please leave your review here